Referrals can only be made by a GDP for patients in the following broadly defined categories:
Dental anxiety and behaviour management
Medical complexity
Learning disability
Limitations of personal mobility presenting a barrier to attending general practice without additional support
Other physical disability
Patients who report relevant mental health issues
Bariatric (weight of patient exceeds safe limit of dental chairs in practice)
Looked after children
Referrals can be made for patients aged 16 – 60 for IV sedation for patients too anxious to be treated at a GDP. You must have completed a full examination prior to referral. Please make clear on your referral what treatment you will be providing. If our examination reveals significant dental pathology that you have not diagnosed, then the patient will be returned to you for treatment planning. Please note that preventative care remains the responsibility of you, their GDP.
There are some patients who are not suitable for treatment under IV sedation, which are:
Patients outside the age range 16-60 years
Patients with benzodiazepine hypersensitivity
Patients with a body mass index (BMI) over 30
Patients with excessive movement disorders where cannulation would be impossible
Patients with a diastolic blood pressure greater than 120
Patients with a severe needle phobia
Patients who are not in the American Society of Anaesthesiologists (ASA) Physical Status Classification I (a normal healthy individual) or II (a patient with systemic disease but no functional impairment).
Treatments offered under IV sedation:
Routine restorations – Please note tooth coloured restorations are not provided on posterior teeth
Routine exodontia
Root canal treatments, dentures, crowns, bridges, other advanced restorative treatment and minor oral surgery will not be considered under IV Sedation.
To make a referral, please click on the link below and complete the referral proforma.  Only GDP can make referrals, all other referrals will be rejected.  The referral can only be submitted once all mandatory fields are complete. If you have any queries about the new referral portal, please contact our team on 0300 555 6667.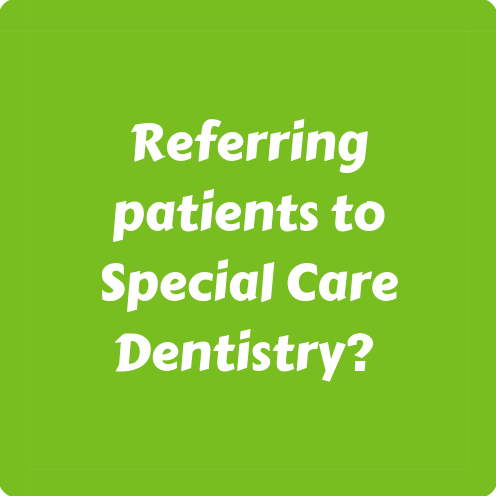 back
to top