Welcome to the My Smile Award programme.
My Smile is a quality mark awarded to early years settings that implement the four steps of the programme. These create a tooth friendly environment for young children, helping to protect their oral health.
The programme supports daily toothbrushing on site, ensures that snacks and drinks provided are tooth friendly and encourages families to visit the dentist regularly.
Targeted settings across Suffolk are invited to take part in the programme each year and the accreditation is valid for two years.
Non targeted settings are welcome to join the My Smile programme, please contact us for further details.
If you have registered and are already part of the programme, you will find documents to help you on the downloads page.
Congratulations to all those who achieved the My Smile Award 2023:
Brookside Pre-school
Buttons and Bows Nursery
Clements Primary Academy
Grange Farm Nursery Kesgrave Ipswich
Hintlesham and Chattisham CofE Primary School
Howard Community Academy
Howard Community Academy Nursery Class
Langer Primary Academy
Leiston Primary School Avocet Academy
Murrayfield Primary Academy
Nursery at Ranelagh Primary School
Ranelagh Primary School
Sprites Primary Academy
Stoke Primary
Stratford St Mary Primary School
The Beeches Community Primary School
The Willows Primary School
Tudor Primary School
Wetheringsett Church of England Primary School
Yoxford and Peasenhall Primary School and Nursery
Some My Smile Recipients 2023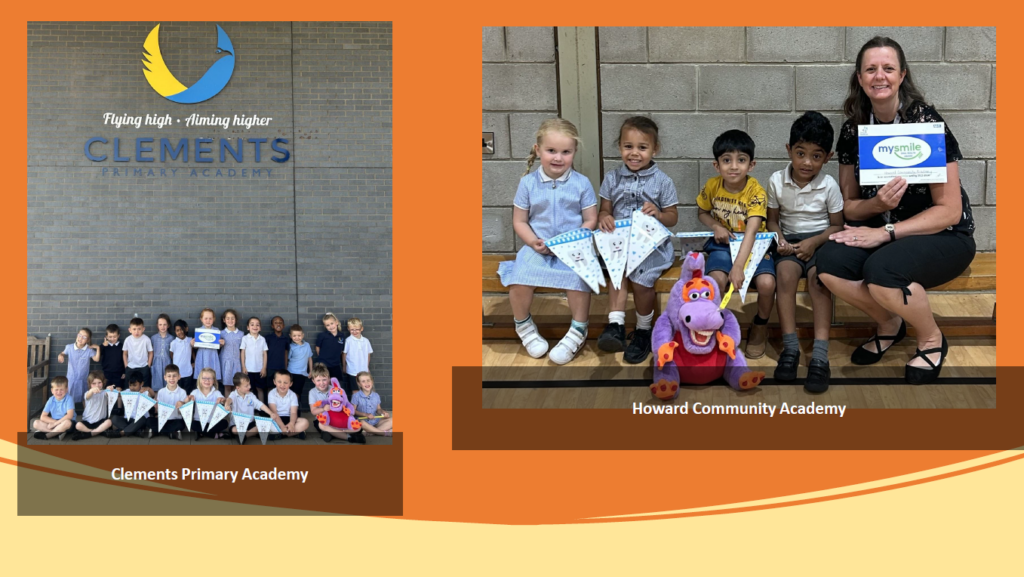 Here's our fantastic settings from 2002:
A1 Funclub
Acorn 2 Preschool
Bluebells Nursery
The Beeches Primary Nursery
Blossom and Buds Nursery at The Beeches Primary School
Childrens Triangle Nursery
Early Years at Highfield Whitehouse
Forest Learners
Foxglove Montessori
Foxglove Violet Hill
Little Learners
Morland Primary Nursery
Nature Den Nursery
Peartree Kindergarten
Pipersvale Primary Nursery
Sprites Primary Academy Nursery
St Louis Catholic Academy
St Peters and St Marys Preschool
The Willows Primary School, Nursery Daisy class
Toybox Preschool
Wellington Nursery
Whitehouse Primary Nursery
YMCA Childcare
Some My Smile recipients 2022
back
to top